There was a viewing today.  Les, Tammy, Laura, Isobel, Carley, Sherry, Lou, Tammy's Mom, and I were there.  We met at Woodlawn Mr. Cheam Funeral Home, Chilliwack, at 4pm.
I went in to identify him.  (This is apparently an crucial part.)  Yes, that was Father.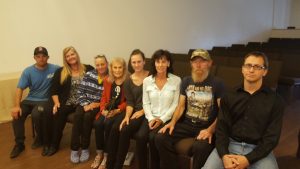 He was in a white shirt with collar and his grey suit jacket.  His hair was combed nicely, hands folded in front of him.  He looked very peaceful, almost with a content look on his face.  He was also covered up with a blanket, just the way he liked.
Aunt Isobel brought flowers from her garden.  Laura put them into a vase to set beside him, and we later brought them home.  I believe he has always secretly liked flowers.  He'd mix them up into his vegetable garden on the sly.
I chose a dark grey round leather urn – leather because Father was always a leather boots, leather belt, leather work gloves kind of guy.  I also chose and a matching one for Glenn.  They were always two peas in a pod.  I'm sure they're having a pint together now.
His initials L J on his fingers … Aunt Isobel said that my Mom's sister, Merine, put it there.  I did not know that.  After so many years, it stood out.  Nothing about him faded.
We went back to Father's house for cake.  Aunt Isobel made a chocolate brownie with chocolate icing and raisins – the way Father liked it.  Really good.  Unfortunately, Tammy, her Mom, and Les didn't come back for cake.
Aunt Isobel wrote an obituary that will be put in the Chilliwack Progress, the Vancouver Sun, and the Brandon Sun.
Leslie Gordon Johnston of Rosedale, BC
March 25th 1937 – Sept. 11th, 2017
Fourth son of Robert & Frances Johnston of Justice MB
One of 7 children, Les was raised on the farm at Justice, moving to Brandon, Snow Lake, and North Surrey in 1966 where he worked as an Eaton's repairman until he retired and moved to Langley and eventually Rosedale in 2007.
Les was predeceased by parents Robert & Frances Johnston, brothers Mel, Al, & Bill, son Glenn, niece Melva, and nephew Ron.
Les is survived by two of his three children, Angela Aizlynn of Wetherby, UK; Justin Allan of Lethbridge; sisters Mame & Isobel, brother Don, grandson Les, and faithful Laura whose love & tender care improved his quality of life which she shared with him until the end.
Les was a wannabe farmer who raised beef & pork and had a wonderful garden & a thriving egg business.
He was a good guy & will be missed.
I added:
A Celebration Of Life will be held in December.  Please see website lesjohnston.ca for more.
Tomorrow will be a world without Father, Les, Dad, Grandpa.  It'll be a very different world.